#1 For Quality
Premium Branded Metal Water Bottles
Put your name on a bottle you'll be proud of gifting. Request a quote in just 30 seconds below!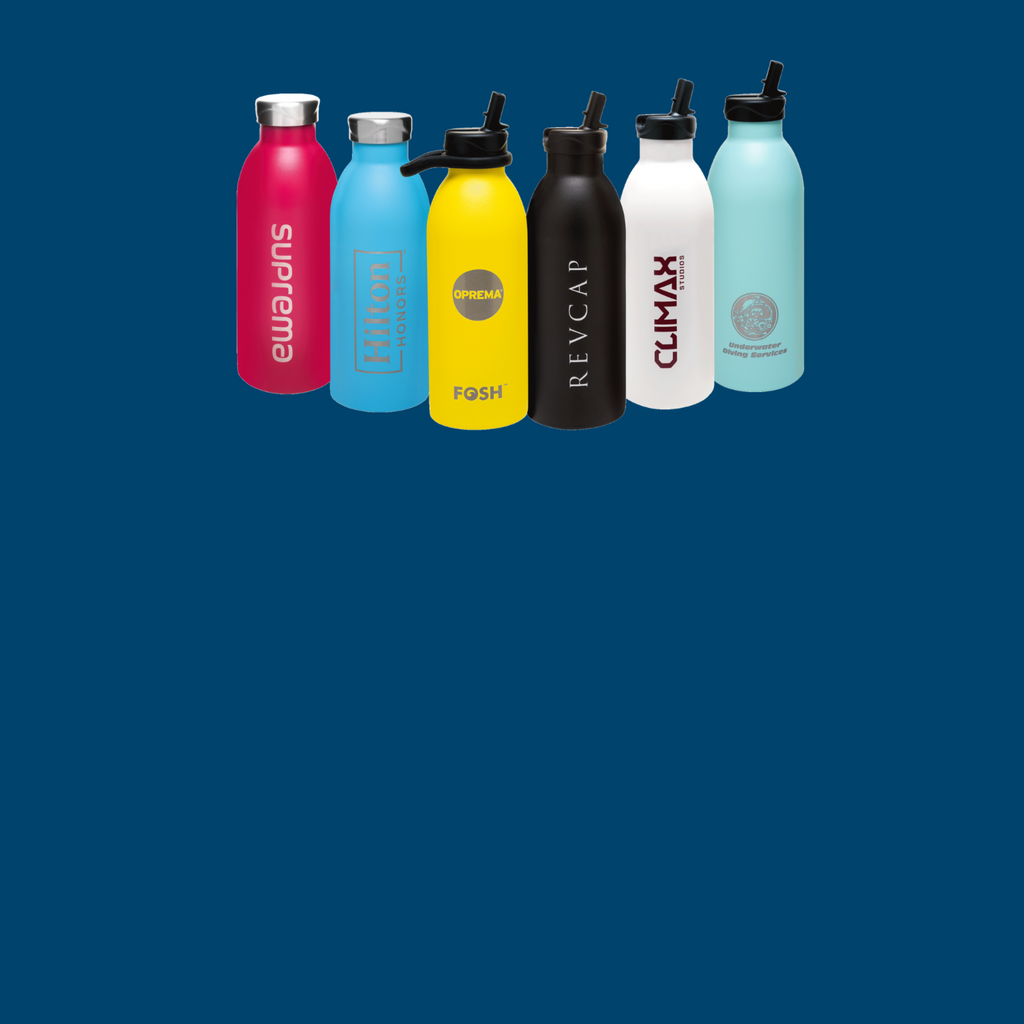 Trusted by the best.
Loved & trusted by 100's of eco-conscious brands around the world. We help you take corporate gifting to the next level. Use it as a thank you to staff, a gift for special customers, a posh giveaway at an event or design it with your own message.
Success
Thank You
The form was sent and we will be in touch.
Error
The form was not sent
We are sorry but the form did not send, please try again
People we've worked with
Distinct Recruitment
Distinct's Sustainability team were looking for a way to reduce plastic waste in the office.
Not only was our mint-coloured #foshbottle a perfect match with their brand but everything was supplied loose to avoid packaging waste. The staff were able to keep hydrated all Summer long.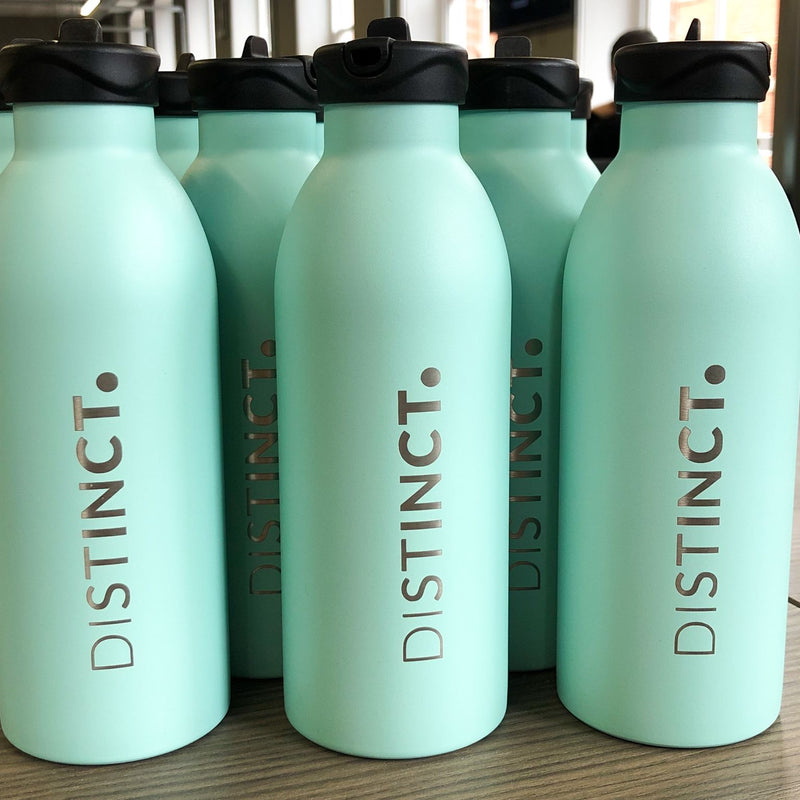 Companies we've worked with
Oprema
We went above & beyond to deliver Oprema a fully bespoke service.
The #foshbottle was colour matched to their unique yellow and supplied with a black carry loop, etched with both their logo and a hashtag. Many bottles were also applied with individual names.
Companies we've worked with
Sunderland AFC
FOSH worked with Sunderland AFC on their project to reduce single-use plastic in the club.
Together we have created a unique water bottle that not only the team uses but is now available to their supporters, a win-win for both the club and their massive fanbase.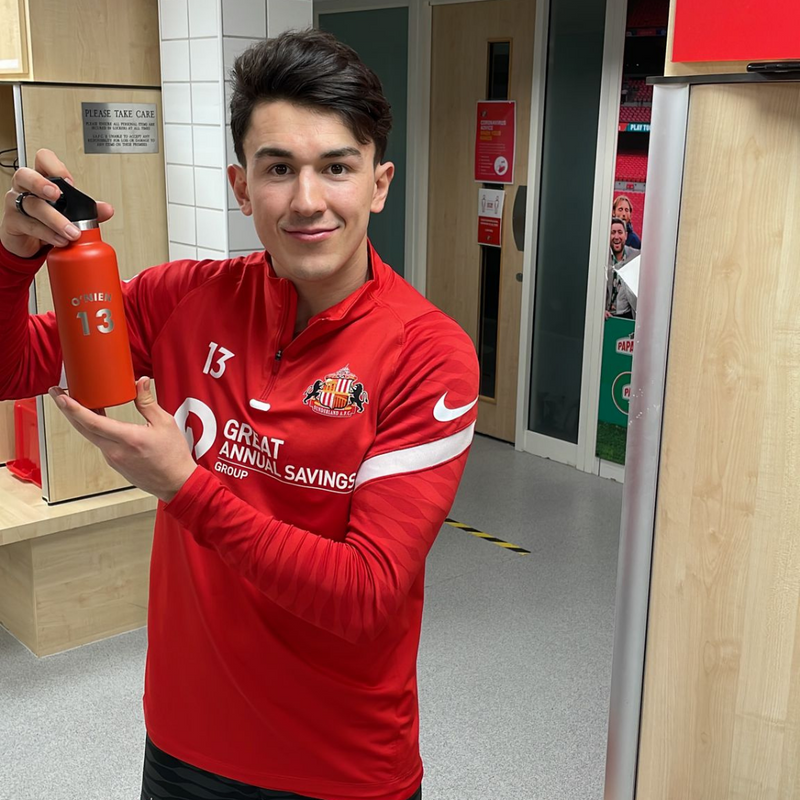 People we've worked with
athmer
athmer were looking for a branded corporate gift that - just like the products they sell - would last their customers a lifetime.
We worked together to create bespoke packaging too, giving the gift that extra emphasis when it landed in the customer's hands.
People we've worked with
Peninsula
We helped Peninsula take positive action on their sustainability targets by supplying branded bottles to their offices worldwide, helping with logistics across the EU.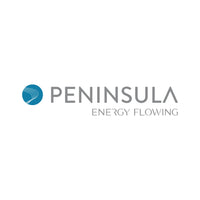 the sky is the limit
Print & Engrave Anything.
Add logos, individual names, numbers, hashtags. Even add QR codes or a 360 degree design. Anything is possible with the #foshbottle.
Box clever
Bespoke Packaging.
Land a knock-out impression with your customer in the first round using our bespoke packaging service.
It's made in the UK and 100% recyclable!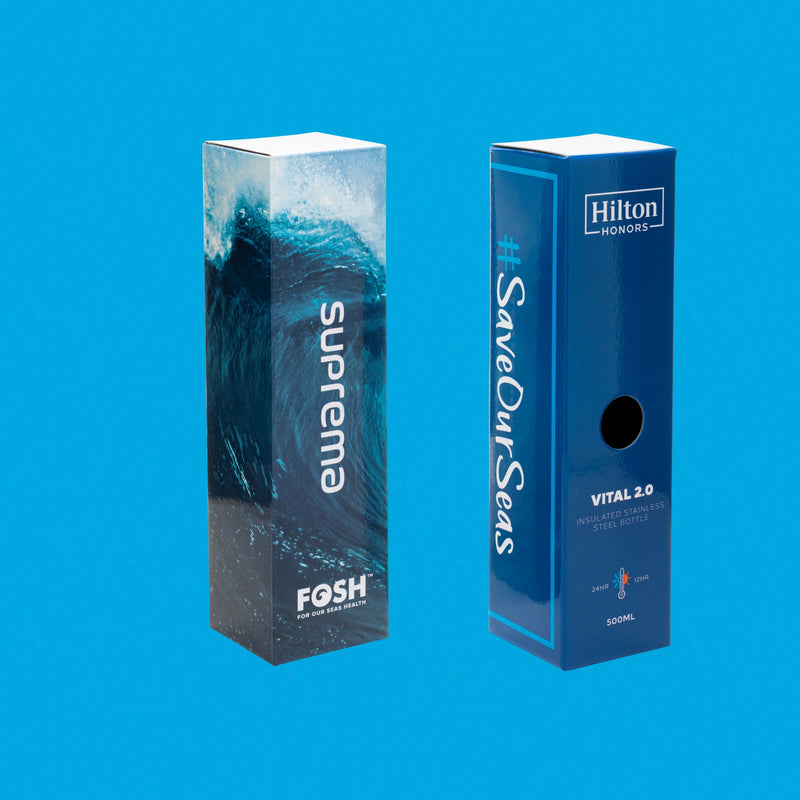 You'll be tickled pink
Colour Matching.
Pick a stock colour and add your company logo right away.
Prefer the bottle in your own brand colour? We've got you covered. The #foshbottle's ultra-durable powder coating can be produced in any Pantone®.
Option 1
From Stock
Choose from any of our current range of bottles in stock & benefit from quick turnaround times. Put your feet up & grab a cuppa whilst we design a mockup for you.
Minimum Order Quantity
Don't need a lot? No stress. You can order from as little as 10pcs & if you prefer to split your order into different colour bottles then that's possible to!
Turnaround Time
The bottles are coming from stock, so turnaround is super quick. We will laser-etch your bottles in just 2-3 working days from payment & send them out on a next-day delivery service.
Extras you ask?
We work with you to get it perfect. Want names, initials or hashtags as well as your company logo? No problem. Want a sample before committing to an order? Of course you can!
Option 2
Bespoke
So you're looking for something special? You're our kind of customer! Option 2 is our fully bespoke package. Choose a Pantone colour for the bottle to match your brand - even design your own branded box if you wish - and create a marketing masterpiece. Make it unique, make it yours.
Minimum Order Quantity
Our super relationships & expertise help to keep MOQ's to a minimum. Order from as little as 500pcs.
Turnaround Time
This option takes a little longer than the first. But hey, you want a masterpiece and Leonardo Da Vinci spent 4 years on the Mona Lisa, so we think that's fair.
Bling your bottle
We want you to be fully satisfied, so let us know any special requirements and we'll try our best to accommodate them. Branded packaging, different colour accessories, you name it.
Success
Thank You
The form was sent and we will be in touch.
Error
The form was not sent
We are sorry but the form did not send, please try again